FEATURES
What's new in the latest version? Version 5.0.0 January 12, 2015
1. Fixed: Bug fixes.
Now

Version 5.0.0 January 12, 2015
Now

Version 4.9.0 January 22, 2014

1. Added anti-phishing for IE x64 and IE11.

2. Added a new theme.
Version 4.8.0 December 13, 2013
1. 360 Internet Security 2013 is now 360 Internet Security.
2. Supports themes.
3. Supports auto update.
4. Unified installer (supports both 32-bit and 64-bit).
Version 4.7.0 November 21, 2013
1. Added URL filtering to Firefox.
2. Other bug fixes.
Version 4.5.0  October 25, 2013
1. Supports Windows 8.1 RTM.
2. Fixed Sandbox display issue when system text size changes.
3. Other bug fixes.
Version 4.3.0  August 30, 2013
1. Added Sandbox. Programs running in sandbox are isolated from the system to improve security.
2. Added Trace cleaner. It will clear traces left by web browsing, documents and playing media.
3. Added Anti-spyware to Windows Action Center.
4. Other bug fixes.
Version 4.1.0  June 20, 2013
1. Triple Antivirus Engines, combined benefits of cloud and local engines, excellent scores from third party test agents: 360 checksum based cloud engine, machine learning QVM engine, and BitDefender local engine.
2. Realtime Protection: proactively alerts when critical system resources accessed suspiciously .
3. Secure Browsing: blocks phishing websites & malicious URLs.
4. Privacy Protection: stops unauthorized keylogger and webcam access.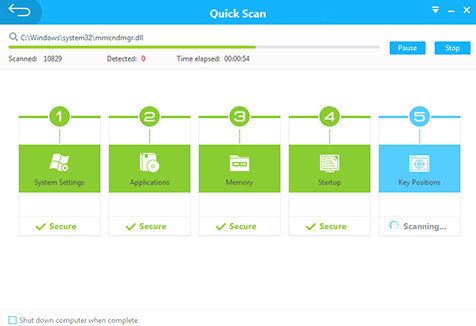 Triple Antivirus Engines
Cutting edge antivirus powered by 360 Heuristic Engine, 360 Cloud Engine and Bit-Defender.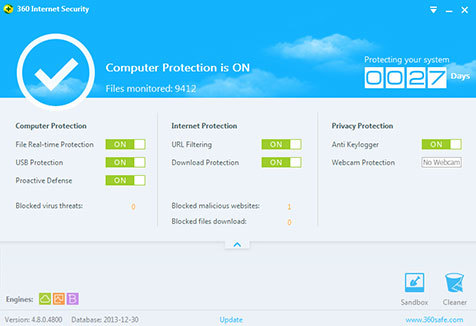 Realtime Protection
Secure your PC with Realtime Protection and Proactive Defense.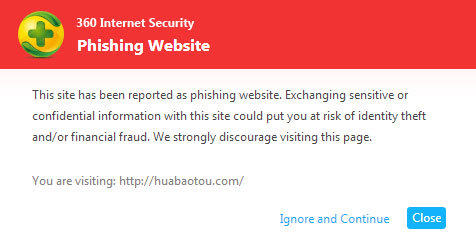 Secure Browsing
Premium features including Secure Browsing, Privacy Protection, and Sandboxing.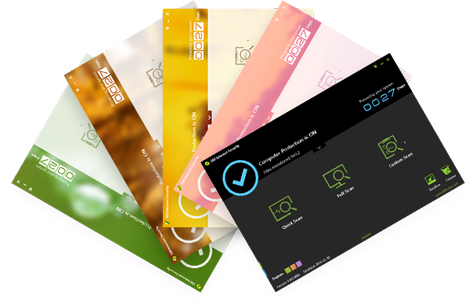 Theme Support
Automatic updates and theme support.
CUSTOMER SUPPORT
For PC
For Mobile
Partner